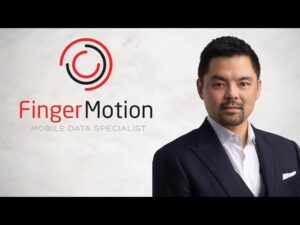 Martin J. Shen, Chief Executive Officer FingerMotion Inc. (NASDAQ: FNGR)
About FingerMotion, Inc.
FingerMotion is an evolving technology company with a core competency in mobile payment and recharge platform solutions in China. It is one of only a few companies in China with access to wholesale rechargeable minutes from China's largest mobile phone providers to service their consumers. As the user base of its primary business continues to grow, the Company is developing additional value-added technologies to market to its users. The vision of the Company is to rapidly grow the user base through organic means and have this growth develop into an ecosystem of users with high engagement rates utilizing its innovative applications. Developing a highly engaged ecosystem of users would strategically position the Company to onboard larger customer bases. FingerMotion eventually hopes to serve over 1 billion users in the China market and eventually expand the model to other regional markets.
Interviewer, Steve Macalbry of Best Growth Stocks
Full Interview
Steve: Thank you for giving us the time to answer our questions.
Could you give us a brief overview and future vision for your company?
We are a mobile data specialist company that provides mobile payment and recharge platform system primarily to the Chinese market. The company offers telecommunication products and services, including data plans, subscription plans, mobile phones, and loyalty points redemption services; bulk short message service and multimedia messaging services; and our own proprietary Rich Communication Services (RCS) platform that enables businesses and brands to communicate and service their customers on the 5G infrastructure. Additionally, we have our proprietary big data insights platform known as Sapientus that serves the insurance, healthcare, and financial services industries. Recently, we entered a strategic collaboration with Migu Video to expand our presence in international markets and to diversify our reach into other growing geographies. Moreover, we are committed to implementing on growing our domestic strategy primarily by increasing our market share and penetration with our current products and technologies. Our priority as a management team is focused on driving shareholder value through market expansion opportunities, substantial revenue and income growth, and maintaining a solid cash position to invest in the business, including potential acquisitions and collaborations.
There are over one billion potential users in the China market, how will the Company tap into that user base while addressing country risk?
While we are a US tech company, by having operations in China, we have always encountered the queries re: country risk. We have noticed, however, that the risk level may not be as heightened as some prognosticators have hinted.
Although the Chinese economy differs from the economies of most countries belonging to the Organization for Economic Cooperation and Development in many ways, economic reforms adopted by the Chinese government have undeniably had a positive effect on the economic development of the country.  In addition, subject to the risk factors outlined in our most recent report on Form 10-K, as filed with the SEC, it is notable that, since 1979, a series of new PRC laws and regulations have significantly enhanced the protections afforded to various forms of foreign investments in China.
Notably, the Public Company Accounting Oversight Board (PCAOB) has recently been allowed access to Chinese audit working papers so that they can verify the auditors' work, providing investors the comfort to rely on the audited financials. Thus, the level of transparency in both China is now much improved.
Also, the China National Security Department (a government agency under the Police department) performs a yearly audit and provides a certificate to the Company, called the "Grade Assessment Report on Network Security Level Protection".  This is a comprehensive evaluation and analysis of the security measures implemented in an organization's network infrastructure.  The report assesses the effectiveness of the network security controls and measures in place to protect against various threats, vulnerabilities, and potential cyber-attacks.  The purpose of this assessment is to identify strengths and weaknesses in the network security posture, provide recommendations for improvement, and ensure that the organization's sensitive information and critical assets are adequately protected from unauthorized access, data breaches, and other cybersecurity risks.
For FingerMotion specifically, our Company has already undergone this comprehensive risk assessment, to clearly identify any potential areas of vulnerability.  And by engaging reputable legal counsel (McMillan LLP as US Counsel; Dentons in China), it allows us to concentrate on proactively growing our business, without the need to simultaneously spend excess resources on infrastructure. We expect that this ability to focus on new, innovative ideas will allow us to access and grow our customer base.
Can you explain the value of the cooperation agreement with Migu Video Technology Co., Ltd. for FingerMotion's future?
In May, we entered into a cooperation agreement with Migu Video Technology Co., Ltd. and our contractually-controlled affiliate, Shanghai JiuGe Information Technology to start an in-depth collaboration on overseas hardware and terminal business. Overseas growth is an essential element of the Multi-channel network (MCN) of Migu Video. Another key element is the research and development of international standards that highlight Chinese culture and art. The final element is the proposed establishment of an international video sharing platform.  Through this cooperation agreement we are seeking to collaborate with Migu Video to develop a solution to fully combine our innovative R&D and resource integration capabilities in order to expand into the international streaming market with Migu Video.  This cooperation agreement sets the stage for our business to build synergies in the development of an international streaming content aggregator and highlights our brand differentiation advantages in international markets.  This cooperation agreement will focus on establishing a sales organization, product optimization, and portal upgrade in expectation of bringing more innovative services to customers while continuously improving the social value of the overseas hardware and terminal business.
As you plan to expand into the international streaming market with Migu Video, what key challenges do you foresee and how are you planning to address them?
The Migu relationship provides us with a potential new avenue for our overall Company while leveraging, and growing, the user base that we already have. As a Company, we have built strong foundations in the "top-up" and data businesses, and our device protection division is primed to take off.  By adding this new vertical, we are able to diversify our businesses and reach additional users, which in turn grows our other businesses.  Of course, any new venture takes time to grow and our relationship with Migu is still very much in its infancy.  We are excited about the opportunities that will be available for us to expand our reach into new geographies. We are using our partnership to help us to develop an appropriate go-to-market strategy and be able to increase our market penetration.  As a management team, we will closely monitor the potential paths that this cooperative arrangement can take, to ensure it provides the best synergistic value to our Company and our shareholders.
Your strategy for 2023-2024 involves "domestic precision and overseas extension". Can you provide more details about this approach?
As I have often mentioned in my interviews, we are grateful to be in the position that we are, fine tuning our "top-up" and data mechanisms in the largest population pool in the world.  We believe that by maximizing our knowledge and expertise in China, it will ultimately allow us to take our platforms and expertise into other jurisdictions.  Thus, we look to expand our business, not just into other industries outside of insuretech, but also expand our geographic footprint as well, moving outside of China.  The knowledge we are able to gather from our work domestically will simply allow us to extend our business into other areas of the world.
Our strategy going forward involves the seamless execution of our growth strategy in China and gaining share among competitors in other international markets.  This involves further penetration in the Chinese market now that the Chinese lockdowns have come to an end.  In the last quarter, we focused our available resources to the "top-up" business as our corporate SMS customers were not interested in driving traffic to retail establishments that were closed.  Now that China has opened up again we expect an upward trend in revenue growth. Our expansion into international markets and the beneficial diversifying benefits for our revenue mix and margins will be an important aspect of the future growth of business over the next several years.
Can you provide some background on why FingerMotion chose to eliminate its remaining convertible debt and the strategic advantages it provides?
Earlier this year, we eliminated our remaining convertible debt with our primary lender, which totaled over $5 million.  Retiring the outstanding debt allows us to strengthen our balance sheet while maintaining a strong cash position.  Eliminating the remaining convertible debt and related obligations to issue any additional shares of common stock to our primary lender eradicates any further dilutive impact of such convertible debt on our stockholders.  We are well poised for future growth, and eliminating such convertible debt will help us to enhance profitability and cash flow generation.
Martin Shen, you mentioned that eliminating this debt "reinforces our commitment towards building shareholder value." Can you elaborate on this statement and outline your future plans to further enhance shareholder value?
During the past year, we were able to find equity investors that showed keen interest in our Company and our future plans.  With that new capital injection, it provided us the opportunity to remove the remaining debt on our balance sheet, which I believe most investors would agree is a good thing.  It not only strengthens our financial position, but also provides a more attractive Company for future investors, by improving future cash flows and eliminating the concern of continually servicing any overhanging debt.
Is there anything else you would like to add that may be key for current and potential future shareholders to consider?
We have been taking proactive short-term measures to increase the product mix to give a more balanced spread in the revenue and margins while ensuring that we continue to efficiently use our resources, which we expect to be realized over the coming months.
The foundation of our current long-term strategy is based on our new R&D investments as well as the successful execution of strategic partnerships to enhance revenue growth, margin expansion, and cash flow generation.
In our Big Data division, we have grown our partnerships with both Pacific Life Re and Munich Re, although we acknowledge that the progress is not at the speed that we would like. Operationally, we must expect some growing pains but we continue to move forward and improve – this has always been our long-term focus and the division is poised to be the major contributor to our business in the near future.
As noted throughout, we have a number of exciting new ventures that could provide additional revenue growth and expand our business to new industries.  At the same time, we remain committed to growing our current businesses to their full potential, understanding that a strong foundation will provide us the best footing to grow. With our mission on maintaining strong governance and infrastructure, continuing to innovate with investment in R&D and focusing on growing our business with attention to profitability, we take the responsibility of stewardship very seriously, and we hope our shareholders share that commitment.
For more information on FingerMotion Inc. visit:
Thank you Mr. Shen,
Steve Macalbry
Senior Editor, BestGrowthStocks.com
About Steve Macalbry
Steve Macalbry is a seasoned financial expert with a remarkable 30-year track record in trading and investing within the stock market. His exceptional understanding of financial markets and a keen eye for lucrative opportunities have not only driven individual success but have also laid the groundwork for countless others to thrive.
Steve began his career in the early '90s, rapidly developing an intuitive grasp of market dynamics that propelled him into a high-stakes trading role. His ability to anticipate market shifts and act decisively set him apart from his peers. Over the years, his experience expanded to cover a wide range of assets including equities, commodities, and ETFs.
For a decade, Steve served as an apprentice to a Portfolio Manager for one of the largest investment firms in the country, where he helped manage multi-million-dollar portfolios and advise a variety of clients, from high net-worth individuals to institutional investors. His ability to balance risk and reward, whilst leveraging market fluctuations, resulted in consistently strong portfolio performance and enhanced client trust.
Today, Steve Macalbry is a renowned figure in the world of finance, sharing his wealth of knowledge with others and contributing regularly to top-tier finance publications. His unrivaled experience and passion for market analysis and education make him a pivotal asset to the global financial community.
Throughout his career, Steve's philosophy has been simple: to demystify the stock market for the average investor, to provide insightful analysis for sophisticated traders, and above all, to generate substantial returns while mitigating risk. His decades of success stand as a testament to his knowledge, strategy, and tenacity in the ever-evolving world of stock market trading and investing.
Contact
Editor@BestGrowthStocks.com
Disclaimer
Transparency is very important to us. Please read this disclaimer in its entirety to fully understand this segment of our business model.
BestGrowthStocks.com is a wholly owned subsidiary of Media Source LLC, herein referred to as MS LLC.
This website / media webpage is owned, operated, and edited by Media Source LLC. Any wording found on this website / media webpage or disclaimer referencing to "I" or "we" or "our" or "MS LLC" refers to Media Source LLC. This website / media webpage is a paid advertisement, not a recommendation nor an offer to buy or sell securities. Our business model is to be financially compensated to market and promote public companies. By reading our website / media webpage you agree to the terms of our disclaimer, which are subject to change at any time.
Our reports/releases are a commercial advertisement and are for general information purposes ONLY. We are engaged in the business of marketing and advertising companies for monetary compensation. Never invest in any stock featured on our site or emails unless you can afford to lose your entire investment. The disclaimer is to be read and fully understood before using our services, joining our site or our email/blog list as well as any social networking platforms we may use. MS LLC's business model is to receive financial compensation to promote public companies. To conduct investor relations advertising, marketing and publicly disseminate information not limited to our Websites, Email, SMS, Push Notifications, Influencers, Social Media Postings, Ticker Tags, Press Releases, Online or Phone Interviews, Podcasts, Videos, Audio Ads, Banner Ads, Native Ads, Responsive Ads. This compensation is a major conflict of interest in our ability to be unbiased regarding. Therefore, this communication should be viewed as a commercial advertisement only. Note, we periodically conduct interviews and issue stock alerts that we are not compensated for, these are purely for the purpose of building our brands. We have not investigated the background of the hiring third party or parties. The third party, profiled company, or their affiliates likely wish to liquidate shares of the profiled company at or near the time you receive this communication, which has the potential to hurt share prices. Frequently companies profiled in our alerts may experience a large increase in volume and share price during the course of investor relations marketing, which may end as soon as the investor relations marketing ceases. Our emails may contain forward-looking statements, which are not guaranteed to materialize due to a variety of factors. We do not guarantee the timeliness, accuracy, or completeness of the information on our website / media webpage. The information in our website / media webpage is believed to be accurate and correct but has not been independently verified and is not guaranteed to be correct.
Please Note: MS LLC and its employees are not a registered investment advisor, Broker Dealer or a member of any association for other research providers in any jurisdiction whatsoever.
Release of Liability: Through use of this website viewing or using you agree to hold MS LLC, its operator's , owners and employees harmless and to completely release them from any and all liability due to any and all loss (monetary or otherwise), damage (monetary or otherwise), or injury (monetary or otherwise) that you may incur. The information in our website / media webpage is believed to be accurate and correct but has not been independently verified and is not guaranteed to be correct. The information is collected from public sources, such as the profiled company's website and press releases, but is not researched or verified in any way whatsoever to ensure the publicly available information is correct. Furthermore, MS LLC often employs independent contractor writers who may make errors when researching information and preparing these communications regarding profiled companies. Independent writers' works are double-checked and verified before publication, but it is certainly possible for errors or omissions to take place during editing of independent contractor writer's communications regarding the profiled company(s). You should assume all information in all of our communications is incorrect until you personally verify the information, and again are encouraged to never invest based on the information contained in our written communications. The information in our disclaimers is subject to change at any time without notice. Some of our claims regarding gains could be based on intra-day, pre-market and after-hours trading data.
All information on featured companies is provided by the companies profiled or is available from public sources and MS LLC makes no representations, warranties or guarantees as to the accuracy or completeness of the disclosure by the profiled companies. None of the materials or advertisements herein constitute offers or solicitations to purchase or sell securities of the companies profiled herein and any decision to invest in any such company or other financial decisions should not be made based upon the information provide herein. Instead MS LLC strongly urges you conduct a complete and independent investigation of the respective companies and consideration of all pertinent risks. Readers are advised to review SEC periodic reports: Forms 10-Q, 10K, Form 8-K, insider reports, Forms 3, 4, 5 Schedule 13D.
MS LLC is compliant with the Can Spam Act of 2003. MS LLC does not offer such advice or analysis, and MS LLC further urges you to consult your own independent tax, business, financial and investment advisors. Investing in small and micro-cap growth securities is highly speculative and carries an extremely high degree of risk. It is possible that an investors investment may be lost or impaired due to the speculative nature of the companies profiled.
The Private Securities Litigation Reform Act of 1995 provides investors a safe harbor in regard to forward-looking statements. Any statements that express or involve discussions with respect to predictions, expectations, beliefs, plans, projections, objectives, goals, assumptions or future events or performance are not statements of historical fact may be forward looking statements. Forward looking statements are based on expectations, estimates, and projections at the time the statements are made that involve a number of risks and uncertainties which could cause actual results or events to differ materially from those presently anticipated. Forward looking statements in this action may be identified through use of words such as projects, foresee, expects, will, anticipates, estimates, believes, understands, or that by statements indicating certain actions & quote; may, could, or might occur. Understand there is no guarantee past performance will be indicative of future results.
In preparing this publication, MS LLC has relied upon information supplied by its customers, publicly available information, and press releases which it believes to be reliable; however, such reliability cannot be guaranteed. Investors should not rely on the information contained in this website. Rather, investors should use the information contained in this website as a starting point for doing additional independent research on the featured companies. MS LLC has been compensated one thousand dollars cash via bank wire to distribute this interview by investor relations agency Skyline Corporate Communications Group, LLC, which is paid by FingerMotion Inc. (Nasdaq: FNGR) for providing investor relations and corporate communications services relating to the Company's securities. Please see Skyline's 17(b) Disclaimer and Disclosure Statement here: https://skylineccg.com/disclosures/. Although this piece is not and should not be construed as editorial content, the sponsored content team works to ensure that any and all information contained within is true and accurate to the best of their knowledge and research. The content that follows, if any, is for informational purposes only and not intended to be investing advice. The advertisements in this website are believed to be reliable, however, MS LLC and its owners, affiliates, subsidiaries, officers, directors, representatives and agents disclaim any liability as to the completeness or accuracy of the information contained in any advertisement and for any omissions of materials facts from such advertisement.
MS LLC is not responsible for any claims made by the companies advertised herein, nor is MS LLC responsible for any other promotional firm, its program or its structure.
MS LLC is not affiliated with any exchange, electronic quotation system, the Securities Exchange Commission or FINRA. MS LLC is not a Broker/Dealer and does not engage in high frequency trading.
Contact: editor@bestgrowthstocks.com